Why join the YMCA?
YMCA recreation centres build healthy communities - come for a splash with the family, hit the gym, swim laps or simply shoot some hoops. Your local YMCA membership is your all-access pass to health, fitness, sport and family fun. Learn how we're so much more than just a gym . . .
What our customers say about us
Membership Benefits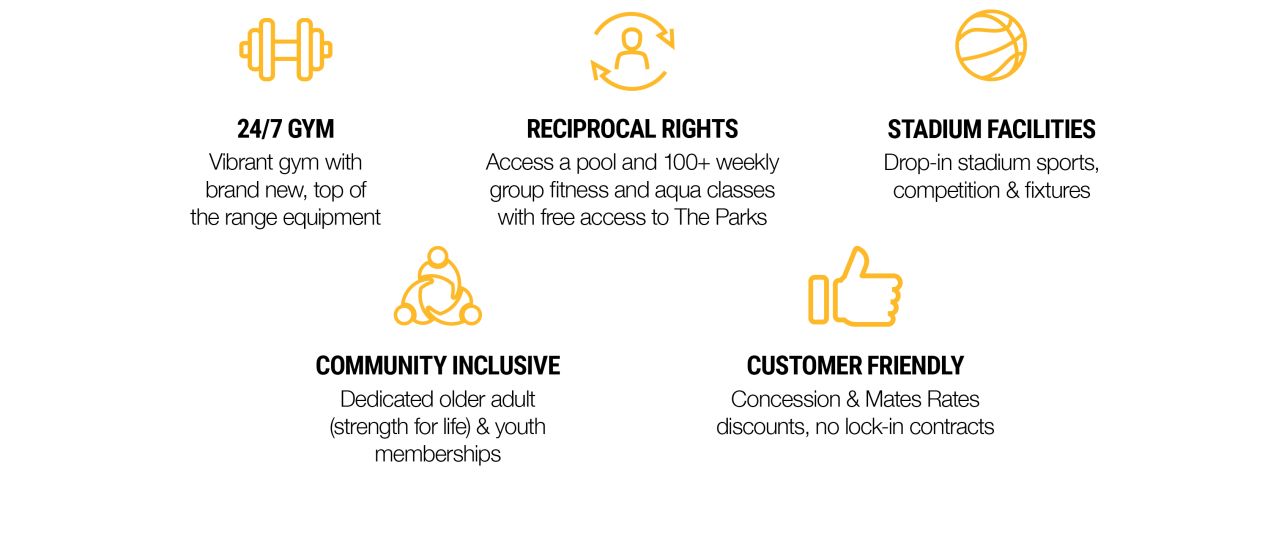 Active living isn't just about hitting the gym. It's about prioritising physical activity and finding activities that you want to do, rather than something you should do. From swimming to group fitness, to stadium and court sports fun, your local Y has you covered.

24/7 Gym
Workout when it suits you, day or night! The St Clair Recreation Centre gym is equipped with brand new, top-of-the-line equipment suited for any fitness level and ability. A combination of cardio equipment with built in TV's, easy to use pin-loaded and cable machines, functional fitness zone, and full range of free weights make the gym versatile and welcoming. Purchasing a 24/7 key fob is an optional extra (non-refundable upfront fee). Learn more and take the virtual tour!
Reciprocal Rights
Swim, gym and play – one membership for all of your recreation and fitness needs.
The newly redeveloped Parks Recreation and Sports Centre is located less than a 5 minute drive from the St Clair Recreation Centre. All Access and Foundation Members have full access to The Parks facilities and programming at no additional cost. The Parks facilities include a 50m lap pool, program pool, gym (fitness centre), and dedicated fitness studio, cycle studio and functional fitness space. Visit The Parks website to learn more.
This means you can compliment your workout at the St Clair Recreation Centre with some lap swimming, an aqua fitness class, spin class, or any one of The Parks 100+ weekly group fitness classes. Using the Parks is simple, simply bring your key card and ID to scan-in on visit. Reciprocal rights is exclusively available to All Access Members, and is not available to Active Adult and Active Youth members) Reciprocal rights conditions apply.
Stadium Facilities
Sport is a great way to keep physical activity fun. With 6 stunning stadium courts, St Clair Recreation Centre will have a wide variety of social sporting leagues, ladders, programs and casual drop-in times based on community demand. Social sport programs include activities such as basketball, netball, soccer/futsal, badminton and roller skating.
Community Inclusive
Membership for all
All YMCA's have dedicated memberships for both older adults (Active Adults) and youth (Active Youth). These dedicated memberships enable affordable access for for all ages and abilities.
We also strive to reduce financial barriers restricting community access to recreation and active living opportunities. With this in mind, we have concession discounts applicable to All Access Memberships and some casual admission fee types.
Support
We'll make you feel welcome and keep you on track towards your goals.
This is where we shine in comparison to many other gym providers. As a full-service provider, our staff play an active role in delivering wellness. This means complimentary gym inductions, setting up personalised workout programs to your goals, industry-leading group fitness, and general staff access to ad-hoc training questions and technique cues.
With the YMCA you can start your fitness journey with confidence, support and a clear path to achieving results.
Customer Friendly
We want you to keep coming back because you want to – not because you're locked into a contract! You choose a level of commitment you're comfortable with; drop-in casually, purchase a visit pass or sign up for a membership.
Our memberships are customer friendly. Great discounts are available for older adults, youth, concession card holders and if you join with a mate. Also, sleep easy with simple and transparent cancellation and suspension options.